Updates
NEW Texting Program: 2QuitSD
The South Dakota QuitLine is excited to announce a new service that will be coming in late fall/early winter. The 2QuitSD Texting Program is a hybrid texting and phone coaching tobacco cessation program. The program will include 8 weeks of cessation support via 2 phone calls (one call during Week 1 and one call during Week 4) with the rest of the weeks receiving personalized texting from a coach. This service also includes a Quit Guide and clients can also receive up to 8 weeks of free NRT medication: options include the patch, lozenge, or gum.

While the full phone coaching program has the most intensive cessation treatment the hope is that this new texting service can reach more tobacco users who may need extra supportive services but are hesitant to do the full phone coaching program. The South Dakota QuitLine also has some eligibility for re-enrollment, so your patient or client can always reach out to QuitLine to see if they're eligible even if they have recently used services.
FDA Moves to Ban Menthol Cigarettes and Flavored Cigars
The Federal Drug Administration has sent a rule proposing a menthol cigarette and flavored cigar ban to the White House for final review.

Menthol, a common tobacco product flavor, is a chemical compound found naturally in peppermint and other mint-like plants, but it can also be produced synthetically. Therefore, when it's inhaled it creates a cooling sensation and makes the cigarette smoke feel less harsh. Per the CDC, menthol can also change the way the brain registers the sensations of taste and pain. These characteristics make menthol-flavored products more attractive to youth, with 81% of youth ages 12 to 17 who had ever used a tobacco product reported that the first product they used was flavored - the most popular flavors being fruit and menthol.
Studies show that menthol products can actually be more addictive than non-flavored tobacco products and people who smoke menthol cigarettes can be less likely to successfully quit than people who smoke non-menthol cigarettes.
Menthol-flavored tobacco products are also a large issue from a health equity standpoint - with 83% of Black Americans who smoke using menthol products. The tobacco industry has deliberately targeted Black communities for years creating communities that are disproportionately affected by negative health consequences of commercial tobacco products.

The goal of this ban is to reduce youth initiation of tobacco products, promote health equity, and reduce death and disease that is a direct result of tobacco use. In fact, a 2022 study by Georgetown University found that a menthol ban could save up to 640,000 lives over the span of 40 years.
---
Tobacco Cessation Highlight: School Staff
Tobacco use is mainly started and established in adolescence, with 90% of tobacco users starting before the age of 18. This demographic is especially susceptible to nicotine addiction because their brains are still developing. While cigarette use among youth has been declining over the years, there has been a spike in youth e-cigarette use.

The Youth Tobacco Survey, which looks at tobacco use behaviors in South Dakota middle school students, reported that in 2021 about 11.6% of students have ever used an e-cigarette and about 4% of students are current e-cigarette users.

The Youth Behavior Risk Survey, which looks at risk behaviors in South Dakota high school students, reported that in 2021 about 31.9% of students have ever used an e-cigarette and about 15.8% of students have used an e-cigarette in the past 30 days.
Tobacco use at this age can lead to nicotine addiction and potentially lifelong use, therefore, encouraging cessation of tobacco products among youth is incredibly important. In addition, the younger someone is when they quit using tobacco products, the more they reduce their health risks.

Schools across the state have shown concern at rising e-cigarette use rates among their students and have noticed more violations of students using vaping products on school grounds or even during class. These behaviors can be indicative of a nicotine addiction among students and more and more school staff members are stepping up to intervene.

We'd like to acknowledge the many school nurses, counselors, teachers, and other school staff who are working to combat tobacco use in their schools - through tobacco-free policies in their schools, educating their students, and promoting cessation resources.

If you work in education and would like to get involved, please reach out to Kaitlyn Ashley, kashley@bhssc.org, 605-413-4284 for more information.
---
Education
Webinar: NBHN Webinar: Motivational Interviewing to Enhance Youth Tobacco Cessation
The National Behavioral Health Network for Tobacco and Cancer Control is hosting a webinar titled, "Motivational Interviewing to Enhance Youth Tobacco Cessation." This webinar will explore how motivational interviewing can increase motivation to quit and enhance tobacco cessation in youth experiencing a mental health or substance use challenge.

Tuesday, November 7 at 11 AM-Noon CT/10 AM-11 AM MT
---
Project Sun
The South Dakota Tobacco Control Program offers an array of evidence-based curriculums. We have been made aware of a new curriculum called Project SUN (Stop the Use of Nicotine). This curriculum is Native American-focused. This curriculum teaches the difference between traditional tobacco and commercial tobacco.
To be eligible for the SUN program, a student must have used commercial tobacco in the last 30 days prior to the first session and must join the program on or before the fourth session of the curriculum. This curriculum uses traditions and teaching from Native American traditions such as learning that tobacco used in a traditional way does not involve everyday use or inhaling.
The South Dakota Tobacco Control Program wants to bring this new curriculum to the schools of South Dakota. If you have an interest in this curriculum for your students, please reach out to Tricia Yoshida at Tricia.Yoshida@state.sd.us
---
Changes in Sales of Tobacco and Nicotine Replacement Therapy Products Before and During the COVID-19 Pandemic
This study looks at sales trends pre-pandemic and during the COVID-19 pandemic in relation to NRT products and commercial tobacco including cigarettes, cigars, and e-cigarettes.
---
Cardiopulmonary Impact of Electronic Cigarettes and Vaping Products: A Scientific Statement from the American Heart Association
The long-term consequences of e-cigarette products are still unknown with widespread use only becoming prevalent in the last 10-15 years.
This article covers the known health effects of e-cigarette and vaping products in addition to what current studies in animal models are finding. In addition to the cardiopulmonary effects, this article also covers information on e-cigarette use in pregnancy and the addictive effects of these products.


---
Tobacco Cessation & South Dakota QuitLine trainings are available and can be done as a presentation on-site, or virtual. These trainings can have tailored content for your staff and can include information on the impact of tobacco use, nicotine addiction, tobacco cessation intervention, our South Dakota Quitline services and how to make referrals, and our priority populations.

To request a Tobacco Cessation & South Dakota QuitLine training for your staff or facility or for more information reach out to Kaitlyn Ashley, kashley@bhssc.org
---
funding opportunities
The South Dakota Tobacco Control Grants will be opening in January 2024. For more information visit our website.
Grants – Good & Healthy SD (goodandhealthysd.org)
---
News
Philip Morris develops zero-tobacco heat stick that may avoid regulations
Philip Morris, a billion-dollar commercial tobacco company whose products include Marlboro cigarettes has developed a product called LEVIA which contains a "non-tobacco substrate" that is infused with nicotine and flavoring chemicals. This product may fall into a loophole that allows them to avoid certain regulations and taxes that usually affect the sales of tobacco products. Read the full CNBC article.
---
JUUL Settlement Map
Check out the JUUL settlement map created by the Public Health Law Center. This maps out settlement agreements between Juul Labs, Inc and Attorney Generals of the states and territories nationwide. This map will be updated as more information becomes available.

Juul Litigation Settlement Guide & Interactive Map | Juul Litigation Settlement Guide & Interactive Map (publichealthlawcenter.org)
---
Media
Our QuitLine business cards have a new look
Order Tobacco Cessation Resources on our online catalog.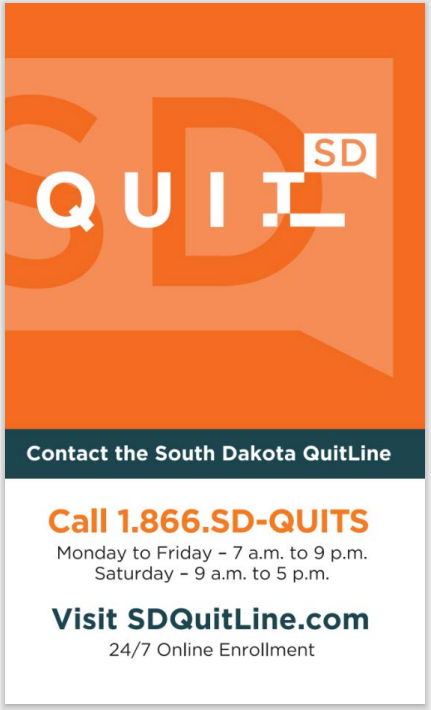 Tobacco Cessation Resources
To make a direct referral to the South Dakota QuitLine for your patient, you can use the Fax Referral Form.
SD QuitLine Download QUIT GUIDE
The South Dakota QuitLine offers multiple FREE resources for those who want to quit using commercial tobacco products.
This is Quitting
This is Quitting is a text-based cessation service designed to help those aged 13-24
Smoke Free TXT
SmokeFreeTXT is a text messaging cessation program for those 13+. Text SDQUITS to 47848
---
Tobacco Prevention Coordinators